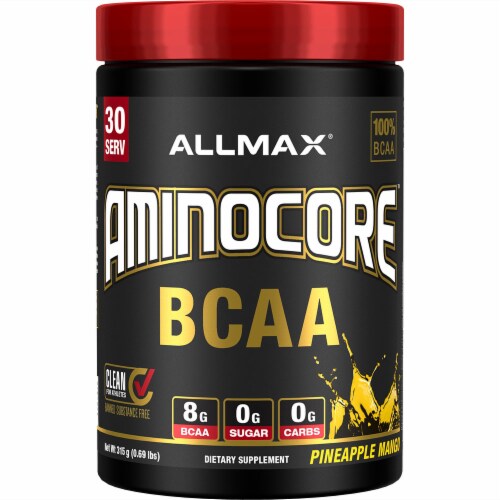 Hover to Zoom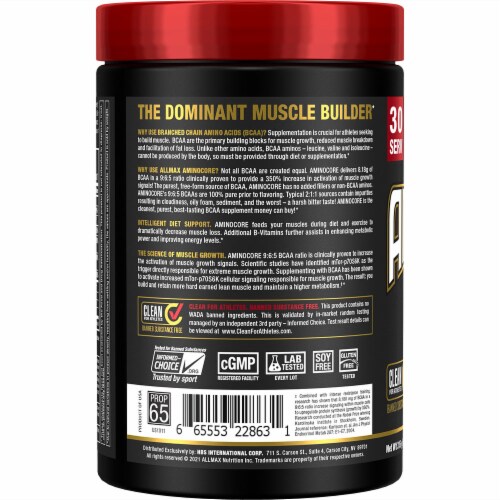 Hover to Zoom
Hover to Zoom
ALLMAX Nutrition® Aminocore™ BCAA Pineapple Mango Dietary Supplement
Product Details
AMINOCORE delivers 8.18g of BCAA in a 45:30:25 ratio clinically proven to provide a 350% increase in activation of muscle growth signals. The purest, free-form source of BCAA, AMINOCORE has no added fillers or non-BCAA aminos. AMINOCORE's BCAAs are 100% pure prior to flavoring. Typical 2:1:1 sources contain impurities resulting in cloudiness, oily foam, sediment, and the worst – a harsh bitter taste! AMINOCORE is the cleanest, purest, best-tasting BCAA supplement money can buy.*

Optimal ratio of BCAAs: AMINOCORE provides a scientifically-validated 45:30:25 ratio of L-Leucine, L-Valine and L-Isoleucine and an unrivalled 8.18g of BCAAs to maintain, and sustain for longer, the highest degree of muscle protein synthesis. The study from the Karolinska Institute, a world leading medical university also responsible for selecting Nobel laureates in Physiology or Medicine, found this ratio and dosage is the catalyst that increases the muscle cell's anabolic signaling by 350%.

Powerful BCAAs: Along with its powerful anabolic and anticatabolic (muscle preserving) benefits, the BCAAs in AMINOCORE also help the body to tap into fat stores while hanging on to hard-earned muscle.

Additional power of B Vitamins: AMINOCORE supplies a uniquely-powerful matrix of six B-Vitamins (varied forms of B3, B6, B9, and B12) to upregulate metabolic power, release cellular energy, support muscle protein synthesis and optimize nutrient absorption.

*These statements have not be evaluated by the Food and Drug Administration. This product is not intended to diagnose, treat, cure, or prevent any disease.
---