Hover to Zoom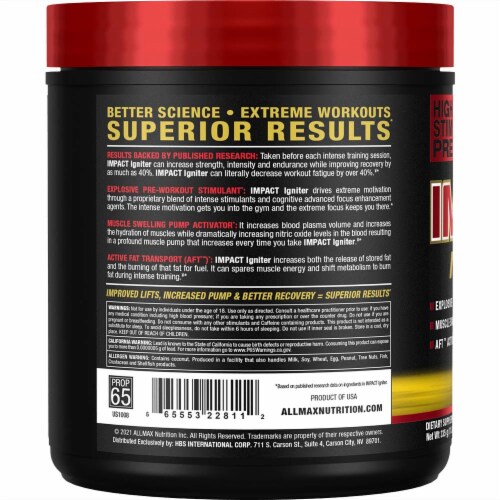 Hover to Zoom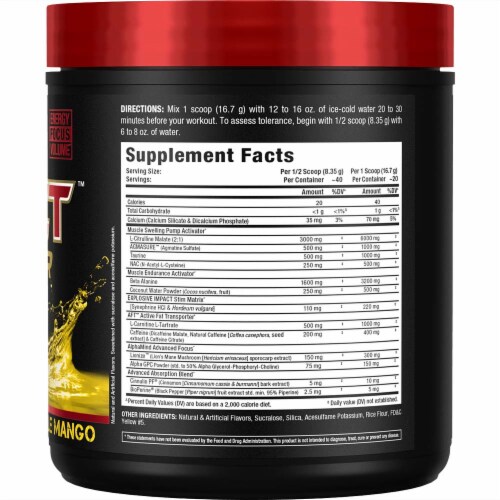 Hover to Zoom
ALLMAX Nutrition® Impact™ Igniter Pineapple Mango Dietary Supplement
11.8 oz
UPC: 0066555322811
Product Details
Impact Igniter is a fully dosed and highly effective Pre-Workout that'll give you exactly what you want – results! Even better, these are results that improve the more you use it! Loaded with research directed dosages that work synergistically to produce superior results.
With ongoing use in high-intensity training, IMPACT Igniter delivers:
• The kind of extreme motivation you need to train with INTENSITY
• Increases in strength, reps and recovery
• Muscle swelling pump activation you can FEEL
• Amplified metabolism to incinerate fat while you train
IMPACT Igniter drives extreme motivation through a powerful blend of intense stimulants and advanced focus through cognitive enhancement agents. The intense motivation gets you into the gym and the extreme focus keeps you there.
When it comes to serious training, you must have a plan and a purpose. But, if you're in the gym and you don't have the razor-sharp focus of a decorated sniper, you aren't going to have the kind of "next-level" workout that creates results. You need the perfect combination of intense motivation, decreased perception of exertion (how heavy the weights feel) and most importantly… focus!
We have included what we think are the best-of-the-best in terms of delivering the kind of mental acuity that allows you to block out the world and become single-minded about your training.
Ingredients:
CITRULLINE MALATE 2:1 6000 mg
BETA ALANINE 3200 mg
L-CARNITINE L-TARTRATE 1000 mg
TAURINE 1000 mg NAC (N-Acetyl-L-Cysteine)
500 mg LION'S MANE
300 mg SYNEPHRINE HCl & HORDEUM VULGARE 220 mg
ALPHA-GPC 150 mg
---