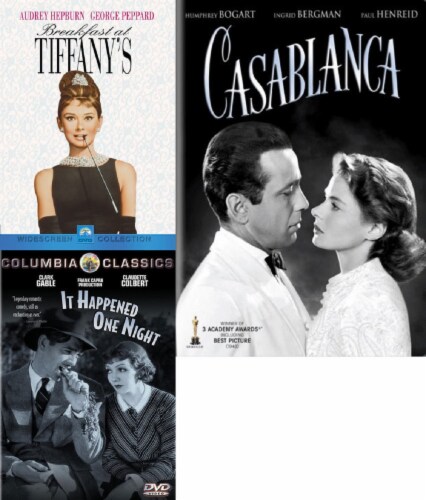 Hover to Zoom
Breakfast at Tiffany's / It Happened One Night / Casablanca DVD Bundle
Product Details
This bundle includes the following on DVD:
Breakfast at Tiffany's - Based on Truman Capote's novel, this is the story of a young woman in New York City who meets a young man when he moves into her apartment building. He is with an older woman who is very wealthy, but he wants to be a writer. She is working as an expensive escort and searching for a rich, older man to marry.
It Happened One Night - In Frank Capra's acclaimed romantic comedy, spoiled heiress Ellie Andrews (Claudette Colbert) impetuously marries the scheming King Westley, leading her tycoon father (Walter Connolly) to spirit her away on his yacht. After jumping ship, Ellie falls in with cynical newspaper reporter Peter Warne (Clark Gable), who offers to help her reunite with her new husband in exchange for an exclusive story. But during their travels, the reporter finds himself falling for the feisty young heiress.
Casablanca - Rick Blaine (Humphrey Bogart), who owns a nightclub in Casablanca, discovers his old flame Ilsa (Ingrid Bergman) is in town with her husband, Victor Laszlo (Paul Henreid). Laszlo is a famed rebel, and with Germans on his tail, Ilsa knows Rick can help them get out of the country.
---