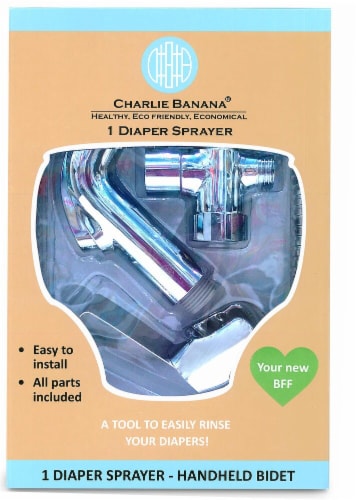 Hover to Zoom
Charlie Banana Diaper Sprayer
Product Details
Charlie Banana® handheld Bidet is an important tool to have if you want to quickly rinse poopy Cloth diapers into the toilet, eliminating the messy need for dunking and soaking, and if you want to teach your children personal hygiene early on.
Installation is very easy and does not require any tools. Follow detailed instructions. Important: Always turn off the switch after use.
Bidet is also a fresh approach to personal hygiene. Cleansing with fresh running water is the most soothing and gentle way to remove germs and bacterias from your sensitive skin areas instead of using rough and abrasive tissue paper.
Cleansing with fresh running water reduces toilet paper use by 80%, which is an easy way to be environmentally friendly and save money. Americans use 36.5 billion rolls of toilet paper every year, representing the pulping of some 15 million trees. The production process is also reliant on bleaching agents and other polluting chemicals. Both manufacturing and distribution impact carbon emissions.
Charlie Banana® handheld Bidet allows you to clean your intimate areas with a soothing spray of fresh water whilst sitting on the toilet. Hygiene and cleanliness that paper alone can never achieve. Bidets are a great way to quickly freshen up at any given time of the day.
Bidets are a great gift to have especially during the post partum recovery period or during the menstrual period to wash the perineal area gently and often.
Older generations might enjoy the ease of cleaning with a bidet as they lose mobility and taking a bath or shower becomes a marathon.
Anyone that has rashes or eczema will enjoy the experience of rinsing with the bidet. Doctors also recommend cleansing with a bidet over the use of moist pads because the ingredients in moist pads can sometimes produce and allergic reaction, which adds to the irritation and discomfort of the rash.
---