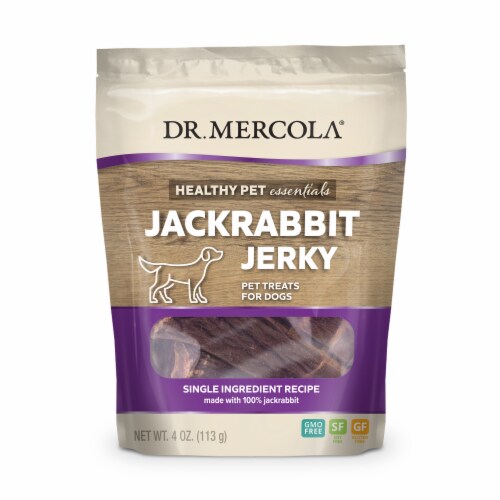 Hover to Zoom
Dr. Mercola® Healthy Pet Essentials Jackrabbit Jerky Pet Treats for Dogs
Product Details
Our single-ingredient Jackrabbit Jerky Pet Treats for Dogs is a nutritious, simple treat that satisfies even the pickiest eaters. It's perfect for feeding to your pet between meals or can be broken into tiny training treats throughout the day. The humanely captured jackrabbit comes from our trusted partner in Argentina. All free-range, wild game meat carries pathogen risks if not properly processed, which is why our wild game treats are produced in our Safe Quality Food (SQF) Certified facility with very stringent quality control.

Our Jackrabbit Jerky Pet Treats for Dogs and our Wild Boar Jerky Pet Treats for Dogs and Cats stand apart from other pet jerky brands in several major ways. Both are:
Made in the U.S. from wild game sourced in the U.S. or Argentina
Made of 100% meat that is humanely captured and suitable for human consumption
Species-appropriate: the only ingredient is 100% pure meat; no carbs or starchy fillers
Made from single proteins and great for all animals but are especially beneficial for pets who may have food allergies or sensitivities, or sensitive stomachs because they are a novel, single-ingredient treat
Free of "hidden" and genetically engineered (GMO) ingredients, fillers, additives or preservatives
Processed in a SQF Level 2 certified facility to eliminate any concerns about wild meat contaminants
While jackrabbit meat is species appropriate for cats, these thicker, harder strips of jerky don't crumble as well as our Wild Boar Jerky Pet Treats for Dogs and Cats and could present a choking hazard for cats. Therefore, we do not recommend feeding our Jackrabbit Jerky Treats to your cat.


---