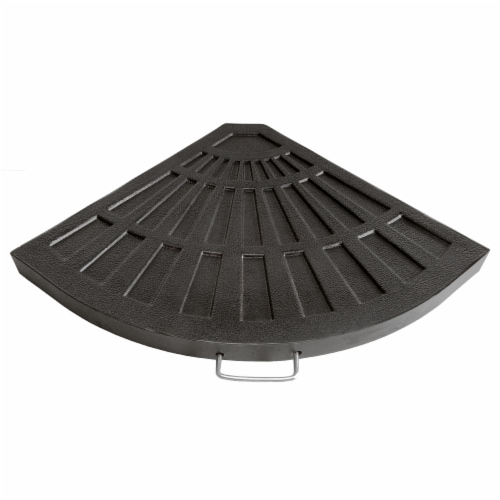 Hover to Zoom
Pie Shape Resin Umbrella Base Section
Product Details
Pie Shape Resin Umbrella Base Section
Pie Shape Resin Umbrella Base Section - SV42-TJ15BK-18P, Featuring a Grecian Grid embossed surface and solid black finish, this umbrella base section is constructed of durable high-density resin for stable, weighted support. Combined with other sections as necessary, this base piece is for use with standard umbrellas with a cross-bar stand design. When properly configured, these bases will provide a secure, as well as decorative, umbrella anchor for shaded outdoor dining or relaxing.18 x 25" Pie Shaped Black Resin Umbrella Base with Grecian Grid Design - For Cantilever or Offset Umbrellas
Model No : SV42-TJ15BK-18P
Brand : National Tree Company
Dimensions: 18"x25"x1.6"
Resin base material with solid black finish
31 lbs. overall weight
For use with umbrellas with cross-bar stands
Multiple sections may be required for proper umbrella security
Featuring a Grecian Grid embossed surface and solid black finish, this umbrella base section is constructed of durable high-density resin for stable, weighted support. Combined with other sections as necessary, this base piece is for use with standard umbrellas with a cross-bar stand design. When properly configured, these bases will provide a secure, as well as decorative, umbrella anchor for shaded outdoor dining or relaxing.
Product dimension(W x D x H): 25 x 18 x 2
---