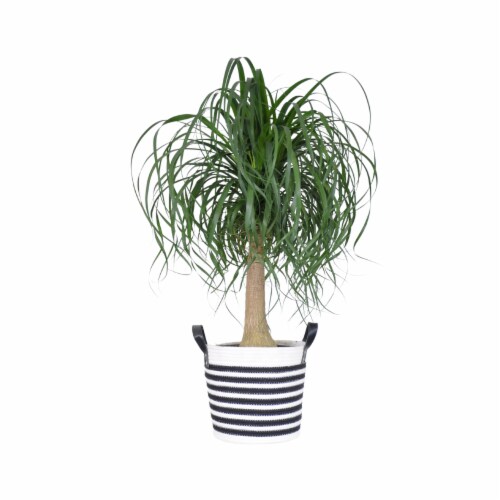 Hover to Zoom
Potted Ponytail Palm in Black and White Rope Basket
10-inch pot
UPC: 0084023660530
Product Details
The Beaucarnea guatemalensis or more commonly known as the Ponytail palm and Elephants foot, is a unique looking, long-lasting indoor plant which is perfect for beginners or expert plant lovers. The Ponytail Palm has an exclusive feature within the swollen base of its trunk, which is where it stores a reserve of water making it highly tolerant to drought. The texture of the trunk looks and feels like an elephant foot from which clusters of long strap-like leaves arch and droop gracefully from the trunk giving the impression of a palm. If you're looking for a plant that will make a statement in your house or office with low maintenance and easy care, then the Ponytail Palm is a great choice. Indoor house plants are proven to be excellent air purifiers which help decrease stress and anxiety while stimulating creativity and productivity. Great for yourself or as a gift.
Plant comes in a boho styled rush paper weave and rope stitched basket with water proof liner and matching white faux leather straps
We do not ship to California or Arizona due to U.S Department of Agriculture restrictions on tropical plants.
---