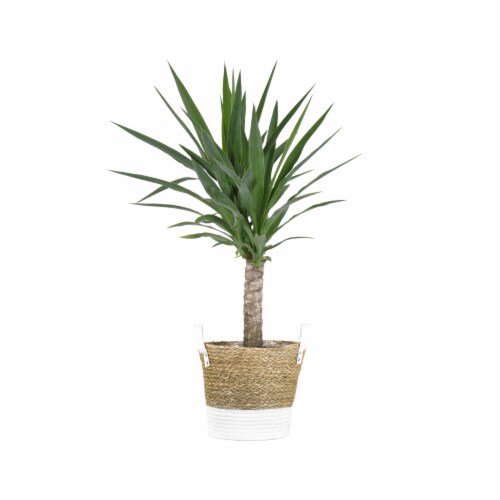 Hover to Zoom
Potted Yucca in Beige and White Wicker Basket
10-inch pot
UPC: 0084023660521
Product Details
The Yucca Cane is a long time favorite that will make a dramatic conversation piece. Its upright spineless hard leaves sit atop a thick wood cane in multiple clusters which creates an exotic tropical look. In addition to its bold look, the Yucca Cane is an easy care plant that requires low watering and enjoys high to medium light spaces. The spineless yucca loves sunlight and watering about once a week. Make sure the soil dries out before watering again. To beautify your plant use containers with drain holes to drain excess water and keep your plant healthy. Indoor house plants are proven to be excellent air purifiers that removes pollutants and chemicals from the air for healthy living. Studies show that house plants can decrease stress and anxiety and stimulate creativity. Great for yourself or as a gift!
Plant comes in a boho styled rush paper weave and rope stitched basket with water proof liner and matching white faux leather straps
The Yucca plant is native to hot, dry areas of the Americas and Caribbean. The indoor yucca tree beautifies your home and adapts to the area quickly. The Yucca Elephantipes is the perfect indoor plant and the perfect gift!
Be sure to not over water your Yucca plant and allow soil to drain properly and dry before adding more water.
We do not recommend shipping to extremely cold weather states. We do not ship to AZ, CA, GU, HI, PR, VI.
We do not ship to California or Arizona due to U.S Department of Agriculture restrictions on tropical plants.
---