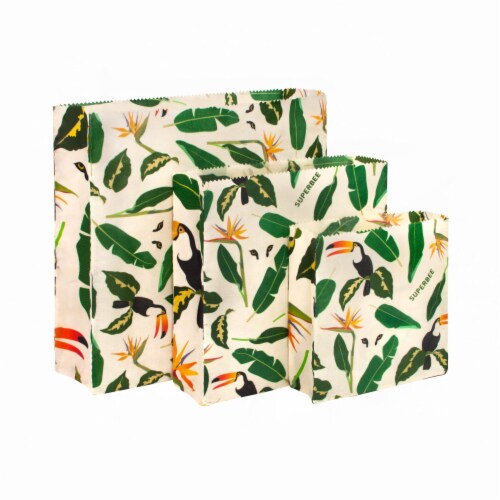 Hover to Zoom
Waxed Food Bags Set, One of Small, Medium, Large Reusable Waxed Food Storage Bag
This selection is unavailable. Please choose another option.
Product Details
This beautiful set of 3 reusable, waxed food storage bags with mixed design- selected for you by SuperBee, replace ziplock bags and bulky plastic containers. Perfect for packed lunches and snacks, or for storing fresh produce or baked goods in either the fridge or freezer.
Sizes:
18 x 18.5 x 5 cm (S)
24 x 24.5 x 7 cm (M)
31 x 31 x 9.5 cm (L)
Mixed Design selected for you by SuperBee
SuperBee Waxed Food Beeswax Bags are reusable, waxed cotton bags that help you reduce plastic waste.
Each set contains: One Large, One Medium and One Small bag. Small Waxed Food Bags are perfect for snacks and sandwiches. Medium Waxed Food Bags are great for baked goods like cookies and muffins as well as fresh produce like tomatoes or apples. Large Waxed Food Bags are perfect for big picnics and sandwiches for all the family. You can also use them for loaves of bread and fresh produce like salads or greens. We take them to the supermarket and pop them in the fridge without unpacking.
Hand sewn using GOTS organic cotton, they're a washable, reusable, long-lasting alternative to plastic bags. Plus they're antibacterial, high quality and certified food safe.
Our Waxed Food Bags are handmade from:
100% Organic GOTS certified cotton
Beeswax
Tree resin
Organic coconut oil
---